Health First Group Graduate Program
At Health First Group, we've designed a graduate program to equip new graduates with the tools they need to excel in their career. It provides an exciting opportunity to join a growing network of private practices with a genuine focus on professional development and wellbeing. One of the best new grad physiotherapy programs, we cover everything and anything you need to assist you from a graduate to an experienced physio, fast tracking you to success.
Hear from Sarah, one of our graduates from 2021 below!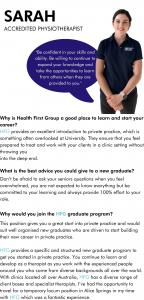 Apply now