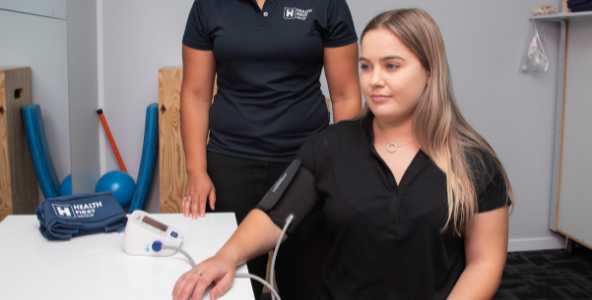 Occupational Health
Services to keep your workforce healthy, safe and productive.
Enquire now
More Info
Pre-employment Functional Assessments
A pre-employment functional assessment is a detailed evaluation of an individual's physical capacity to safely perform the demands of a certain job. A potential employee's ability to effectively meet specific job requirements is fundamental to ensuring their health and wellbeing.
Pre-employment functional assessments can also assist with matching a worker to a suitable task or a particular role within your organisation, minimise risk of work injuries and reduce onboarding time and expenses.
Health First Group performs two standard types of pre-employment functional assessments, both of which can be documented on our own templates or on yours:
Musculoskeletal Assessments – Musculoskeletal Assessments provide thorough screening for injuries and past medical history which may affect an employee's performance in a current or new role. Detailed analysis is provided by our skilled health professionals, with feedback and recommendations on the candidate.
Musculoskeletal Plus Fitness Assessments – Some roles will require employees to have a higher level of cardiovascular fitness. To ensure they are able to operate under increased cardiovascular demand, we can screen and provide recommendations based upon their level of fitness.
Job-specific Functional Assessments can also be upon review of your company's existing job dictionaries or Job Task Analyses (JTA). In the event that a job dictionary or JTA is not available, Health First Group can work in consultation with you to develop one.
Fitness testing can be used in a variety of ways within an organisation, from determining the physical suitability of individuals applying for certain positions, to benchmarking the fitness level of your workforce to establish a baseline for future training. Testing can be tailored to suit your needs, with typical guidelines including:
Chester step test
3-Minute step test
Beep/shuttle test
Upper and lower body strength tests
Grip strength test
Functional testing components such as prolonged positional demands or lifting tests
Health First Group's accredited exercise physiologists are experts at conducting fitness tests for groups of all sizes or on an individual basis.
Functional Capacity Evaluations (FCEs)
Functional Capacity Evaluations (FCEs) allow employers to gain a comprehensive understanding of an employee's current physical capacity and to establish whether a return to work is possible.
The FCE is a detailed assessment containing a series of tests to determine a worker's physical ability to meet the functional demands associated with their pre-injury role, thus assisting them with their recovery and/or return to work. Typically lasting 2-3 hours, FCEs match the worker's physical abilities to the critical demands of the job requirements that are needed to be met. FCE's can be completed either in-clinic, or at the workplace.
At the completion of the assessment, a comprehensive report is prepared summarising the findings of the functional capacity evaluation and any recommendations. In this report you can expect to receive detailed information on:
Employee's injury history
Employee's current symptoms
Employee's current treatment
Summary of medical information previously provided
Employee's willingness to return to work
Employee's current physical capacity
Employee's ability to perform the inherent requirements of their role
Recommendations for progression and further treatment/management in order to achieve a sustainable return to work
Summary of recommendations for suitable duties and hours
Drug and Alcohol Screening
Employers have a duty of care to ensure the health and safety of their workers and to minimise workplace risks, and drug and alcohol screening is a tool to manage this. We offer:
testing procedures in line with current Australian Standards
confirmation testing by NATA accredited laboratories
screening tests performed by qualified collectors.
Confined spaces are those that are not designed for continuous occupancy and pose a potential health and safety risk for those required to perform work within them for a duration of time. Potential confined spaces include vessels, tanks, silos, pipes, tunnels, pits and/or equipment housings.
Health First Group's confined space medicals have been designed to evaluate a worker's medical and/or physical capacity to work within confined space environments safely and without risk of developing or aggravating an injury and/or medical condition.
Spirometry / Lung Function
Spirometry is a simple test used to help diagnose and monitor certain lung conditions by measuring how much air you can breathe out in one forced breath. It's carried out using a device called a spirometer, which is a small machine attached by a cable to a mouthpiece.
This is commonly requested for those workers exposed to dusts and as part of Health Surveillance for spray painters and powder coaters exposed to isocyanates.
Wellness Workshops and Seminars
Health First Group's multidisciplinary team of allied health professionals are experienced in designing and delivering a wide variety of occupational health and wellness workshops for groups of all shapes and sizes across a range of industries. These seminars not only provide a wealth of information, but also inspire your employees to make change and to do their best in every aspect of life. It is our goal that participants walk away from this seminar with a new lease on life and a well thought out plan of action for reaching their goals.
Workshops can be tailored to suit the needs to your organisation, with some examples including:
Manual handling training
General wellbeing and disease prevention
Health risks associated with sedentary lifestyles
Exercises and stretches for workers
Ergonomics
Ergonomic Assessments and Training
No matter what the job requirements might be, comfortable, happy workers are more likely to perform optimally and avoid sustaining work related injuries. Small changes in the way workstations are set up, tasks are performed and breaks are utilised, can all make a huge difference to a worker's long term health.
Health First Group offers a range of solutions to improve the ergonomics of your workforce, from comprehensive 1:1 assessments with each staff member to interactive and informative group presentations. Your human capital investment in ergonomics proves that your company is committed to employee health and safety.