Clinical Pilates is an excellent form of low-impact exercise that focuses attention on the 'core muscles' of the body.  This helps to give balanced muscular strength development throughout the back and limbs, helping to stabilise your spine.  Excellent news for the huge proportion of people that suffer from long-term back pain.
Pilates has gained popularity in recent years as an exercise form that has benefits for everyone, regardless of age, gender, size or fitness level.  From those looking to develop long, lean, toned muscles, to postpartum women wanting to regain lost core strength and gentle return to fitness options, to older generations looking for low-impact, strength development classes— pilates is for everyone.
Pilates has also been known to improve overall health and well-being with benefits to many areas of life including: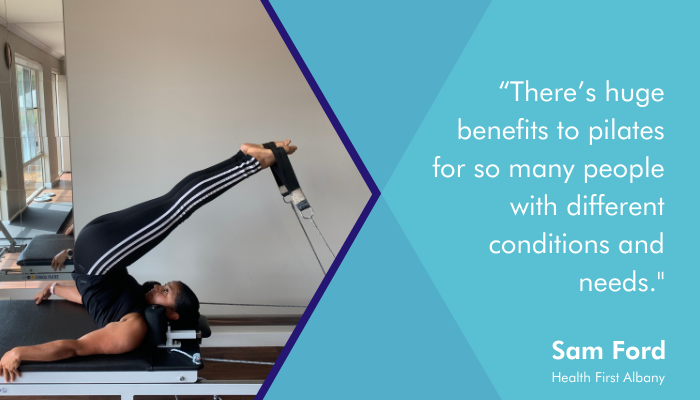 Our Clinical Pilates classes offer individual-specific treatments to improve mobility and repair any injury or pain-related conditions in a safe and controlled environment.
Sam recommends these classes for all patients, citing the broad range of ongoing benefits. 
"There are huge benefits for so many people with different conditions and needs.  Of course improved flexibility, mobility and strength development are important, but also the social benefits of being part of a group fitness setting.  Our 10-week classes are a great opportunity to meet others in the community, who have a mutual interest in meeting their fitness goals.  It's a fun class!" 
Contact your nearest Health First Group clinic to learn more about our Pilates classes.